ELGA helps immuneserology labs maximize uptime
Client
NeoDIN Medical Institute
Immune-serology laboratories often process large number of samples and require consistent ultrapure water delivered to connected analyzers. Following negative experiences with the previous supplier, South Korean based distributors JM Corporation were contacted to offer an alternative solution with the MEDICA® Pro 120.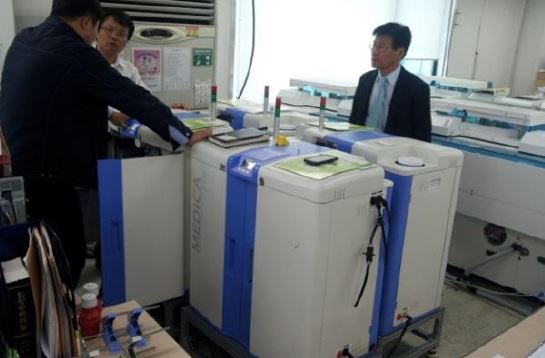 JM Corporation were invited to visit the site at the NeoDIN Medical Institute to assess their situation, and they subsequently worked with a large global, leading clinical diagnostics analyzer company to provide a solution for the client. An important factor in the reliability of the analyzers is the quality of water that is required, and so the total availability and the consistent water quality meeting Clinical Laboratory Reagent Water (CLRW) standards had to be met.
JM Corporation installed four MEDICA Pro 120 water purification systems which were each connected to analyzers to provide the highest water purity meeting CLSI Type I clinical laboratory reagent water (CLRW) quality standards.
The installation of the systems was achieved with minimum distruption to the staff and users of the laboratory. An increase in laboratory space due to the compact solution provided has meant a more efficient running process. 
For more information about this and to read the full case study, please download here.